Network details
Our backbone consists of POPs in all major German cities interconnected via n x 100 Gbit/s circuits.
Usualy we use Juniper MX with auto provisioned configurations out of netbox.
Overall external network capacity is approximately 1803 Gbit/s.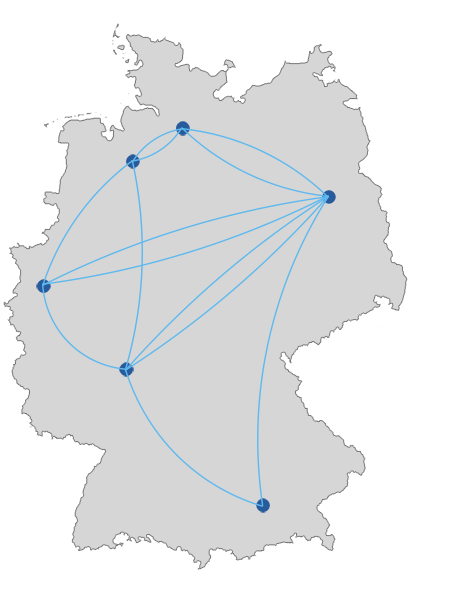 A list of all POPs is available in peeringdb: https://www.peeringdb.com/net/4961
Transit connectivity (370 Gbit/s)
Transit connections are split evenly across Germany.
200 Gbit/s NTT
60 Gbit/s Cogent
40 Gbit/s Lumen
40 Gbit/s Telia
30 Gbit/s Deutsche Telekom
IXP connectivity (213 Gbit/s)
Except for DE-CIX New York, all IXPs are connected via local direct connection.
20 Gbit/s DE-CIX Frankfurt
20 Gbit/s NL-IX
10 Gbit/s DE-CIX Hamburg
10 Gbit/s AMS-IX
10 Gbit/s LINX LON1
10 Gbit/s ECIX Dusseldorf
10 Gbit/s ECIX Hamburg
10 Gbit/s ECIX Frankfurt
10 Gbit/s Speed-IX
10 Gbit/s Peering.cz
10 Gbit/s DataIX
10 Gbit/s BREM-IX
10 Gbit/s DO-IX
10 Gbit/s BCIX
10 Gbit/s Frys-IX
10 Gbit/s Equinix Frankfurt
10 Gbit/s DE-CIX Dusseldorf
10 Gbit/s ERA-IX
10 Gbit/s DE-CIX Munich
3 Gbit/s DE-CIX New York
Private Peering (590 Gbit/s)
200 Gbit/s Microsoft
100 Gbit/s Akamai
40 Gbit/s Facebook
30 Gbit/s Google
30 Gbit/s myLoc
20 Gbit/s Amazon
20 Gbit/s Cloudflare
20 Gbit/s Netflix
20 Gbit/s Hetzner
20 Gbit/s GlobeDatacenter
10 Gbit/s Apple
10 Gbit/s init7
10 Gbit/s Valve
10 Gbit/s Meerfarbig
10 Gbit/s rrbone
10 Gbit/s HAProxy
10 Gbit/s WaipuTV / Exaring
10 Gbit/s Wobcom
10 Gbit/s IP-Projects
10 Gbit/s MK-Netzdienste